Common Problems with New Home Egress Windows in Macomb County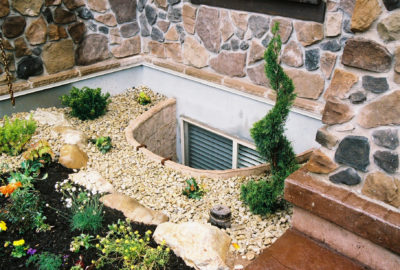 As the owner of a newly constructed home in Macomb County, you probably think that you will have fewer home repair or maintenance issues than with an older home. However, with home-builders quickly constructing homes in very short periods of time, many owners of newly built homes are finding that there are as many, if not more, maintenance and repair issues as many older homes in southeast Michigan. We are often called by new homeowners to evaluate and repair problems with basement egress windows. These problems can range from an easy repair to extensive repairs that can be quite costly. Here are some common issues that we see with new home egress window installations in Macomb County, Michigan.
Poor Grading
This is one of those repairs that can be very simple or very complicated. When your egress windows are installed, they should be installed above the grade of the soil, and the grade of the soil should slope away from the window. Many times, new home builders do not take the time to properly grade the soil around the home, and egress windows end up at or below grade (yes, we've actually seen egress windows that are below the grade of the ground), or with grade that is sloped into the window. Here's the problem with this situation – egress windows are meant to provide an above grade exit for your home. Keeping your egress window above grade and with the ground sloped away from the window, keeps water from filling your window well. Water in the window well can cause substantial problems for your home's basement and foundation. Window egresses that are below grade risk filling not only with water, but also with debris and additional dirt, over time making the window difficult to open or to exit through if necessary.
Separation from the Foundation
Poorly installed egress window wells can often begin to pull away from the foundation of the house. When window wells are installed in a rush, aren't back filled properly, or not properly drained, the metal well structure can start to pull away from the foundation. This can cause soils to fill into the window well, water to sit next to the foundation, and cracks and holes to form in the foundation. All of these can create larger structural issues for your new home. If you notice that your window well is starting to pull away from the foundation of your home, it's time to hire a local egress window company to make the correct repairs.
Improperly Installed Drains
Most egress windows and window wells are connected to your home's foundation drain system. Water will eventually end up in your window well, whether it's from precipitation or your irrigation systems, so it's important to have a way to drain the water from your window well. However, if the drain isn't installed correctly or is too low in the well, you may find that it clogs easily with soils and debris. How do you know if your drain is installed properly? Look inside your window well and see if you can see the cap of the drain. If the cap is above the rock in the bottom of your window well, then it is installed correctly. If you cannot see the cap of the drain, it should be raised so that it does not clog with dirt and debris.
Too Much Rock
The rock in your window well is installed to provide a porous base that water can filter through, as well as providing a safe and stable foundation for individuals that may need to exit through the egress window. The level of the rock in your window well should always be below the level of the window sill. Too much rock can crack and damage window glass. It also allows water to sit too close to the window, which could eventually cause leaks and damage to your home's interior.
I Want More Information an Egress Window Installation in Macomb County, MI
A newly constructed home in Macomb County is a wonderful luxury. It can be a great way to reduce the amount of work you need to do to maintain your new home. However, new home builders in Metro Detroit often hurry through simple tasks to get them done quicker. Egress windows are often over looked by builders, and can cause substantial damages to your new home if installed incorrectly. If you suspect that your new home's egress windows aren't installed correctly, Easy Exit Egress Windows can help. Our team of experts can help you resolve most egress window issues, protecting your new home investment and your safety. For more information on our services, or to schedule a FREE estimate for an egress window installation, call us today at (586) 205-0351.