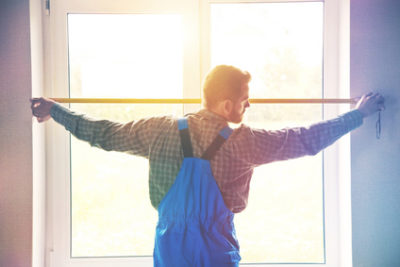 If you are remodeling your basement into a bedroom, you will be required to install an egress window to provide an easy exit in case of emergency or fire.
Installing a basement egress window is an extensive job and requires cutting into the foundation, so a hiring an egress window contractor is recommended. However, in this article we will be sharing some tips on how to plan for your egress window installation.
Building Code Requirements
There are some building codes that you should be mindful of during your installation, otherwise your basement will not pass inspection.
A basement egress window is required to open up at least 24 inches high, 20 inches wide, and have a net opening of 5.7 square feet. They are also required to be within 44 inches from the floor.
Choose Your Egress Window Style
Although there are specific size requirements, you are not limited on style. There are various colors to choose from as well as different window types.
Casement Windows – These windows open and close like a door and are typically controlled by a handle or rotating lever.
Double Hung Windows – Consists of two sashes which overlap horizontally. The window is opened by sliding the bottom part upward.
Sliding Windows – Instead of opening the window by sliding it upward as in double hung windows, sliding windows are opened by sliding from side to side.
Where Will You Install the Egress Window?
Now that you have selected your window size, color and type, it's time to determine the best location for your egress window in your basement. Consider the following factors while making your decision.
Natural Lighting – Choose an area that will receive the most natural light. Not only will this help brighten the room up, but it will keep the basement warmer and decrease the amount of dampness and moisture problems typically found in a basement.
Rain Water Runoff – Even with gutters, your yard will have a natural flow of water. To avoid constant water problems with your egress window, exclude any areas that are near rain water runoff.
Home Exterior – While you are planning how your egress window will look indoors, don't forget to consider your home's exterior.
Avoid installing the window near walkways, air conditioning units, water spigots, electrical boxes or any other outdoor obstacles that might inhibit the placement of the well.
Existing Windows and Doors – You may find that your existing basement window is the perfect place for your new egress window. In this case you can replace the old-fashioned window without creating an additional window opening.
However, if there are other large sliding doors and bay windows in a particular area, installing a large egress window in the same wall space could weaken that side of the home and create structural problems.
Consult with a Sterling Heights Egress Window Expert
The best thing you can do is consult with an egress window contractor about the planning and installation of your window. They have the experience to select the best location and install the window correctly while following local building codes.
If you are looking for a Sterling Heights egress window expert, call Easy Exit Egress Windows today at 586.205.0351.