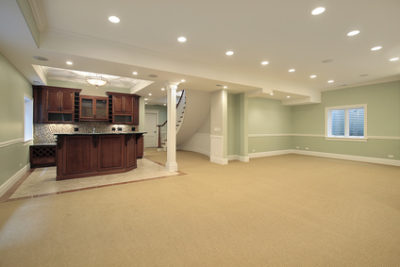 Long gone are the days of ugly window wells. With basements becoming a functional living space for most homes, many homeowners want to have functional basement exits that also look great. No one wants to look out of their beautifully finished basement at a boring metal window well, so here are some great features that many of our Macomb county homeowners love for their window wells.
Attractive Lining
For many years, the only affordable option for your window well lining was corrugated metal that made your window well look like the inside of a pipe. This liner is functional for sure, and it is still the basic option for many new homes and new egress window installations. However, there are other, affordable options that many homeowners in Macomb County are now considering. Brick paver technology has come a long way and is now a great option for the lining of your window well. Pavers that lock together create a strong and stable wall for your window well. Not only are brick pavers strong and safe, but they look attractive and come in a variety of colors, shapes, and textures. This allows you to match your window well with both interior and exterior features, and still have a function exit for your home's basement.
Built-in Ladders
The other great thing about using new materials is that we can create "hidden" built-in ladders. If your egress windows are fairly deep, you may want to have steps or a ladder installed in your window well to make an easy and safe exit. This is extremely important if you have small children that may need to exit the basement. These built-in exit features give anyone needing to exit your basement, easy hand and foothold to give a quick and stable boost out of your window well. Including these built-in steps into your window well lining is a great idea and they look great too. If your window well only has the standard metal liner, we have options for those too. Metal ladders can also be installed as a permanent feature for deeper window wells that may not be easy to get out of, especially for children.
Attractive Covers
Covers are both an aesthetic and functional feature for your window well. Covers provide a way to limit debris from entering your window well, keep pets and kids from falling into your window well, and can also be a security feature for your home. Window well covers come in a variety of styles and can be matched with any interior or exterior feature that you may want. Today's window well covers are designed with basement function in mind, so not only do you get a safer window well, you also can keep your basement full of sun, buy selecting mesh or plastic window well covers.
Small Planters
Yes, your egress windows are supposed to be a safety feature, designed to get your family out of your basement in case of an emergency. That doesn't mean they have to be plain and boring. We can install simple plantings in your egress window well that does not impact the safety but make your window well more attractive. If you are spending a lot of time in your basement, you want to have a great view, so consider adding simple plants and flowers to your window well.
I Want a FREE QUOTE on an Egress Basement Window!
Window wells are no longer a boring feature for your home. With more and more homeowners in Macomb County utilizing the basement for a living space, your window wells should be a safe but attractive feature for your home. Easy Exit Egress Windows can show you the great features that can be included in your new window wells, that make them both safe and attractive. To learn more about our services or to schedule an appointment for an egress window installation please call us today at (586) 205-0351.